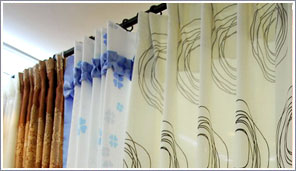 We are a curtain manufacturer located in the heart of Asia, supplying clients all over the world with quality and reasonable price curtains.

Having established great relations with the most prestigious fabric manufacturers in the world, we are able to provide our customers with the best possible prices. In such competitive times, we know how important it is to get your dollars worth.

You can choose from our wide range of styles and fabrics to reflect your personal image. For a more European look, we offer the latest style of draperies with lining and interlining. You could further customize your drapes with the different styles of pleats we offer. You can also expect delivery of your draperies in 2-3 weeks. We are sure you will be amazed with what you will find.

We want to provide beauty, comfort, and style for everyday people in whatever setting they may be in. Whether you are the ultimate consumer, contractors, or interior designers, we have the skills and expertise in understanding and catering to your specific decorative requirements.

We are experts you can depend on.